After a whirlwind two day visit to Dublin, Meghan and Harry have returned home and we are left catching our breath and looking back at the style that was for the Royal Visit Ireland. The key themes for this trip? Modern, fresh and bespoke. Royal Reporter Omid Scobie reported that Meghan's friend and stylist Jessica Mulroney made a quick trip to the UK to help Meghan pick out some of the looks for the tour… And it looks like Jessica's fresh take knocked it out of the park.
The visit kicked off with the green bang of a bespoke Givenchy skirt and blouse upon arrival to Dublin. We loved that it paid homage to Ireland in the green colour, and also that Meghan returned to a fashion house she's obviously developed a good, close working relationship with.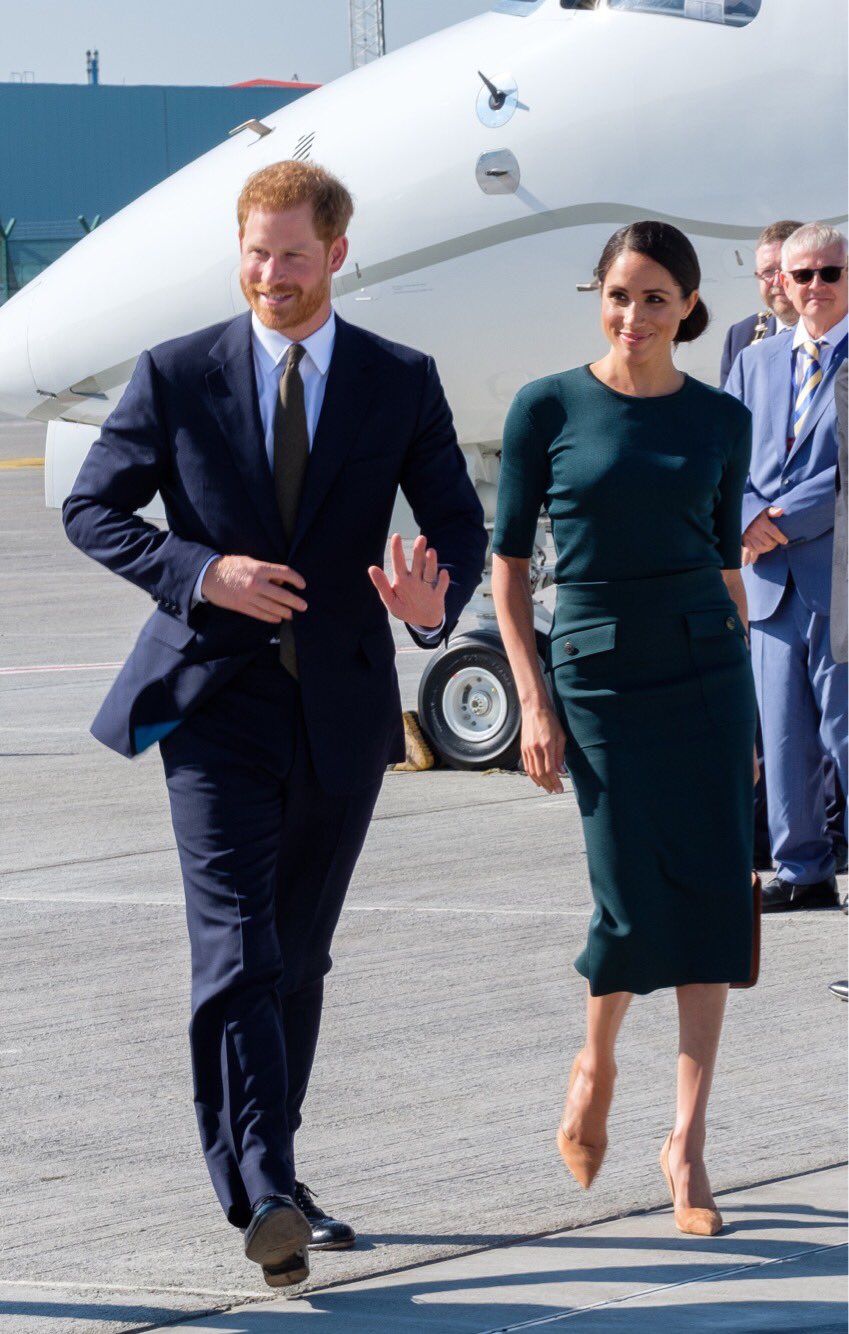 Following the couple's arrival to Dublin, they attended a garden party at the British Ambassador's residence. Changing into a chic, sleeveless black dress, we were all surprised when it was revealed to be a bespoke design by British designer Emilia Wickstead, who had made comments about Clare Wight Keller possibly "plagiarizing" elements of her design in Meghan's wedding dress. Controversy aside, we know that Meghan looked very chic for one of her first evening engagements as a royal.
The next morning was an early meeting with the President of Ireland and his wife – and their dogs! Meghan wore a stunning bespoke Roland Mouret dress, the same designer as the
Barwick dress from the night before her wedding
. The colour of the dress was hotly debated – was it grey? Was it green? But in any event, it was gorgeous… And we're on team grey.
And as quick as the dress was spotted… It was gone! Meghan changed into a much more versatile pantsuit, bespoke by Givenchy of course, for a day full of culture and athletic events which required something slightly less formal than the morning's dress. Meghan wears a pantsuit so well, and it really suits her. (See what we did there?)
Our favourite looks? Amanda's is the green Givenchy outfit from when they stepped off the plane in Dublin.
"I think it set a great style tone for the rest of the trip – and what I love most about it is that the look could be relatable to many women. I could see myself wearing this to a business meeting, for example, and looking great while doing so. The price tag is slightly eyewatering, so I'd definitely MirrorMeg, but I can't blame Meghan for taking advantage of the fashion opportunities in front of her."
Christine's favourite? The Emilia Wickstead from the Garden Party.
"When Meghan stepped out in the black Emilia Wickstread cocktail dress, we really saw her show-stopping powers for the first time – literally, the show stopped to see Meghan in all her elegance. The look was very feminine, simple, and classic but you couldn't miss the way everyone's gaze turned towards her. She also sent an incredible message wearing Wickstead again, telling the world that she wasn't going to fall into tabloid gossip or fodder. The simple dress, the choice of designer, and the elegant ensemble really showed off Meghan's inner Princess."
We'd love to hear your thoughts below – what was your favourite look?