2018 was quite the year for Meghan Markle. She married a Prince, got a new name as HRH The Duchess of Sussex, moved into a Palace, went on a Royal Tour and announced that she and Harry were expecting a baby in 2019.
While it was a remarkable year for Meghan from a personal perspective, it was also a banner year from a style perspective. Meghan began to build her royal wardrobe, selecting pieces that we will likely see for years to come, and honing her skills of sartorial diplomacy. She had many many style highlights of the year and we put it to your vote to see which styles would knock it out of the park for you. And, without further ado, here the styles you voted as your favourite Meghan Markle looks for 2018.
Favorite Coat
The plaid Burberry coat that Meghan wore in Edinburgh topped the list of your favourite coat for 2018. The distinctive print coupled with the flattering style will make this a coat we can definitely see Meghan wearing for years to come… And one it looks like you'll be hoping to see again as well!

Get the Look
Favorite Suiting Look
From the Endeavor Awards, Meghan's Alexander McQueen Suit was your top suiting pick.
Get the Look
Favorite Dress
Your favourite dress for Meghan came out at the very end of the year… Meghan's custom Givenchy gown for the British Fashion Awards is your favourite look. The one-shoulder stunner flattered Meghan's bump and was the perfect look for when she awarded Clare Wight Keller Designer of the Year.
Get the Look
Favorite Skirt + Top
This one was a runaway – and a favourite of Editor Amanda as well – the Custom Givenchy in Dublin on the 10th of July 2018.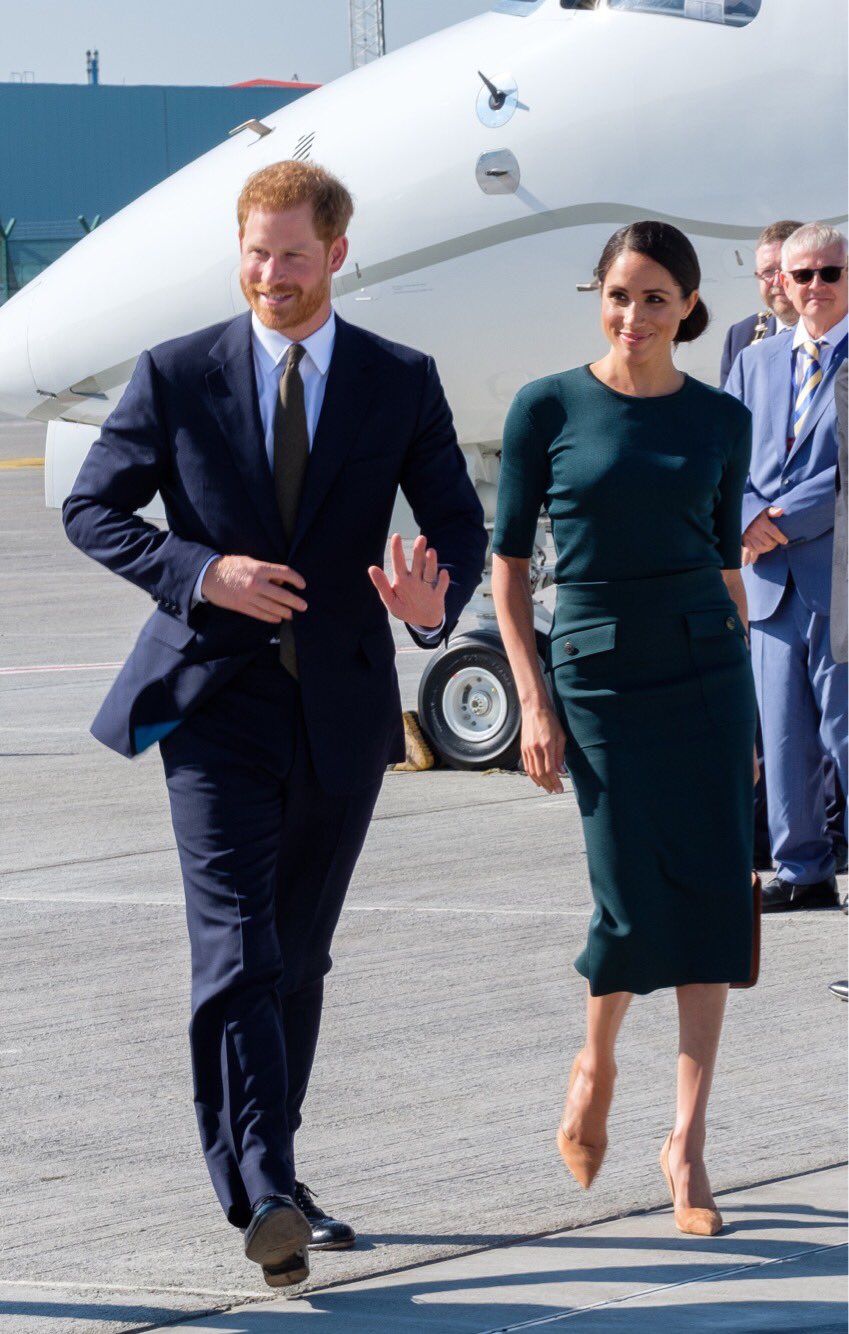 Get the Look
Favorite Formal Royal Look
Dior Dress for RAF 100 Service 10 July 18
Get the Look
Favorite Casual Wear
Carolina Herrera for Sentebale Polo Cup 26 July 18

Get the Look
Favorite Wedding Gown
Stella McCartney Reception Dress 19 May 18

Get the Look
Favorite Casual Royal Tour Look
Martin Grant Maxi Dress at Bondi Beach
Get the Look
Favorite Formal Royal Tour Look
Oscar de la Renta Seagull Dress at Australian Geographic Society Awards 26 Oct 18
Get the Look
Favorite Working Royal Tour Look
Karen Gee Blessed Dress for first day's events in Australia 16 October 18

Get the Look
Favorite Hat
Stephen Jones Hat for RAF 100 Service 10 July 18
Let's Talk Numbers
Have had several people ask about how UFO No More did a huge royal spending tally of all the Royal Ladies for 2018. Unsurprisingly to us, Meghan clocked in with their highest total spending – even if you deduct the Cartier pieces (which they included for comparative data purposes). We believe these pieces were gifted to Meghan to celebrate her wedding day – a lovely gesture to add some sparkle to such a memorable and historic outfit. The price tag for these pieces – over $220,000 USD for both pieces – might make jaws drop, but it is likely that they were a generous and loving gift from a wealthy friend, foreign royal, or relative of Meghan or Harry's.

While this does still have her running in the lead, it's critical to us to point out several things: one – this is Meghan's first year as a very senior, very prominent member of a very high-profile royal family. She didn't have the benefit of years of preparation where she could build up pieces to transition with her and her "public persona" wardrobe needed to be created. This is not cheap! We expected to see numbers like this. And two – Meghan's changing body over the last few months of the year (and Royal Tour!) also likely grew the need to expand a budget.
For her first year as a royal, UFO No More concluded that Meghan spent approximately $290,000 on her outfits, from hats to shoes and everything in between. She debuted over 300 new fashion pieces, including suiting coordinates, outerwear, dresses, shoes, evening wear, handbags, accessories, jewels, and hats. Most of the financial total – nearly half – comes from her stunning, sparkling jewelry collection, which is befitting of a Duchess. She has worn these items many times, and we expect to see them many more times in the future. Meghan also debuted over sixty new dresses, forty pairs of shoes, and over thirty new handbags. As Meghan builds her royal wardrobe, we hope to see her repeat some of the favorite items we mentioned earlier in this piece. And we would REALLY love to dive into her royal closet and borrow some pieces for ourselves!
We also can't discuss Meghan's style choices without mentioning her stylist, Jessica Mulroney. Jessica is Meghan's Torontonian BFF-turned-royal stylist, who has continued to assist Meghan with her sartorial choices throughout her engagement, wedding, and her new life as a royal. Jessica works closely with designers to source fashion-forward styles that are also royally-appropriate, while also connected Meghan with high-end designers for bespoke or unreleased pieces. Jessica may also help with loaned or discounted items from designers, and although this has never been confirmed, we would not be surprised to hear that Jessica has borrowed a few pieces from designers, or purchased items at a discounted rate, for Meghan to wear. It would be impossible to know what items were borrowed or discounted, so any tally is only to provide a guess for Meghan's final fashion tally.
Did we capture all your favourites from 2018?